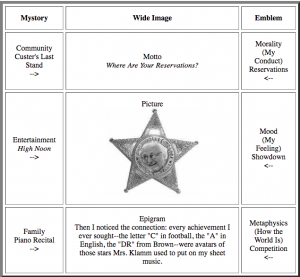 –Tenor (Themata): Catechism. The image on the left is the emblem Ulmer generated from his mystory, leading to design of his wide image in Noon Star. The formal rules from Koren's relay generates theopraxesis by requiring that the answer to the catechism questions must be derived from one of the popcycle stories, each story used once only. The three capabilities are expressed in Wabi-Sabi by three M's (resonating with the H'MMM disciplines): Metaphysics (Theoria); Morality (Praxis); Mood (Poiesis). Egents ask themselves:
1) which of the popcycle stories, received as a fable (parable), expresses their understanding of how the world works, the character of reality. The Japanese tradition answers, "Things are either devolving toward, or evolving from, nothingness." For Ulmer, the Family story of the botched piano recital, the red star (not gold or silver) on the sheet music, is a parable of a reality in which one is continuously judged in endless competitions.  His epigram describes that condition.
2) Morality (Spiritual Values): which popcyle story is a fable of how one must act, given the character of reality? Wabi-Sabi proposes to get rid of what is unnecessary, ignore material hierarchy. For Ulmer, Custer's foolish ambition serves as a negative example, a fable warning against Custer's desire for glory. Ulmer's motto expresses his lesson: Where are your Reservations?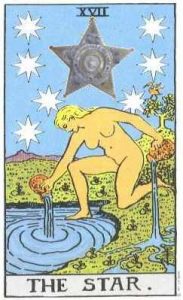 3) The third question is Mood: given the necessity to act in that way, in a world of that character, how do I feel? Wabi-Sabi advises acceptance of the inevitable and appreciation of the cosmic order. Ulmer found his state of mind expressed in High Noon as a fable of duty: despite his contempt for the hypocritical community, the sheriff fought the gang of killers, after which he threw away the tin star. This gesture of discarding the badge of status determined the tin star as the icon of the emblem. In practice it is best to decide which popcycle story supplies the picture, and which question of the catechism that story answers, and the rest of the emblem follows from there.
The wide image has no innate form, and  is not confined to emblem poetics. It is inchoate, accessed intuitively, acquired during the early years of embodied visceral education. It may take many forms and manifest itself within the creative production of an egent. The heuretic frame of electrate pedagogy moves egents through the transition from a condition of privation, Steresis, impotence, potentiality of capability (Dunamis, Virtuality) into Energeia, Actualization, raising consciousness of their positioning and disposition relative to the archive of world culture recording in infinite variation the unfolding of the work of realization of life and death. Konsult is equipment for living (Kenneth Burke), thus, empowering in principle the egent with the resources of civilization available for a fatal encounter with disaster.