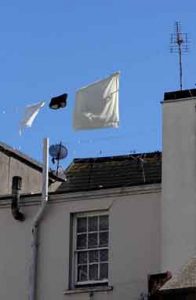 4) Childhood Memory: Renzo Piano.Hal Foster was in Gainesville to give a lecture for the Architecture School.  The theme was Neomodernism, focusing on Norman Foster and Renzo Piano.  I had not heard the story before about the role that childhood memories played in Piano's aesthetic.  It is another example of an image of wide scope, the formatting of an imagination in specific childhood experiences.  There are two memories that reinforce one another in Piano's case:  one of watching sailing ships in the port city of Genoa, his hometown; the other of laundry blowing in the wind on the roofs of the city.
The notion of a 'light modernity' is suggestive. 'There is one theme that is very important for me,' Piano remarks: 'Lightness (and obviously not in reference only to the physical mass of objects).' He traces this preoccupation from his early experiments with 'weightless structures' to his continued investigations of 'immaterial elements' like wind and light. Lightness is also the message of his primal scene as a designer, a childhood memory of sheets billowing in the breeze on a Genoese rooftop, a vision that conjures up the shapely beauty of classical drapery as well as contemporary sailing boats as architectural ideals. For Piano lightness is thus a value that bears on the human as well as on the architectural – it concerns graceful comportment in both realms.

The talk of not struggling is all very well, but in order to be where he is today, Piano has had to work very hard, with great purpose and commercial nous. (His point is that it is a question of balance.) Piano's outlook is heavily influenced by two things: having been a child in postwar Italy, and growing up near a port. "A harbour," he says, "is like an imaginary city where everything keeps moving."

Every Sunday his father would take him to Genoa's harbour and Piano would watch the ships, which he thought of as "immense buildings that move". When they sailed, he watched them cross the water and imagined that they were flying. These notions converged in his mind to form an idea of buildings as structures that "fought against gravity", as "miracles".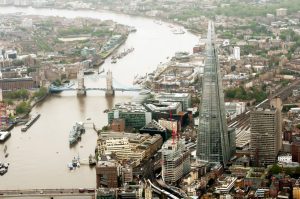 The 95-story skyscraper Piano designed for the Shard Quarter in London expresses the sail as its Idea or parti. Architects are good relays for this translation of wide image into hypothesis since their Idea (parti pris) is precisely a materialized gesture unifying a complex program. Every wide image is a "compass," we could say, generalizing from Einstein's case, in that the idenification of true north allows one to go in any direction. Similarly we may generalize from architecture to say that any wide image provides the parti pris of Konsult.
" This thing came very quickly," architect Renzo Piano has recalled of his first thoughts about the building that would become the Shard, in central London. Piano apparently sketched his idea on a restaurant napkin while meeting property developer Irvine Sellar in March 2000. According to Piano's architectural firm, RPBW, Sellar keeps the famous napkin in his offices. "He saw the beauty of the river and the railways and the way their energy blended and began to sketch in green felt pen on a napkin what he saw as a giant sail or an iceberg," Sellar recalled in a recent interview. Piano, for his part, has sometimes sounded squeamish about the legend that has built up around his off-the-cuff sketch. "I don't want to create a mythology," he has said.